Drotavrine Mefenamicacid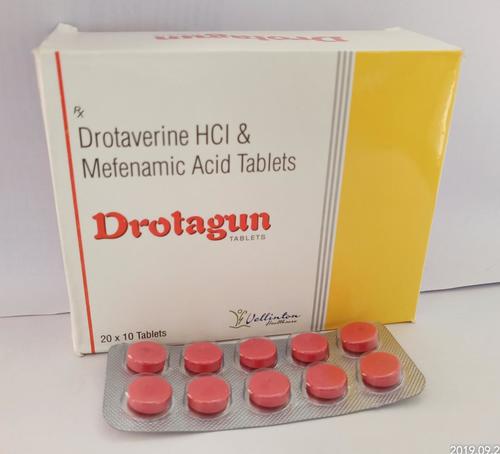 Drotavrine Mefenamicacid
Product Description
Drotaverine and Mefenamic Acid are two separate medications used for different purposes, but sometimes they are prescribed together for their synergistic effects in relieving pain associated with certain conditions.
Drotaverine is a smooth muscle relaxant that is used to treat spasms and cramps in the gastrointestinal tract and uterus. It works by blocking the action of an enzyme called phosphodiesterase, which leads to an increase in the level of cyclic guanosine monophosphate (cGMP), a substance that helps to relax smooth muscles.
Mefenamic acid is a nonsteroidal anti-inflammatory drug (NSAID) used to treat mild to moderate pain, such as menstrual cramps, headaches, toothaches, and musculoskeletal pain. It works by inhibiting the production of prostaglandins, which are substances in the body that cause pain, fever, and inflammation.
When used together, drotaverine and mefenamic acid can help to relieve pain associated with conditions such as dysmenorrhea (painful menstrual periods) and irritable bowel syndrome (IBS). However, the dosage and duration of treatment will depend on the specific condition being treated and the patient's individual needs, and it is important to follow the instructions of your healthcare provider while taking these medications. Like all medications, drotaverine and mefenamic acid may cause side effects in some people, and it is important to contact your healthcare provider if you experience any severe or persistent side effects while taking these medications.