Cyproheptadine Hydrochloride Tricholine Citrate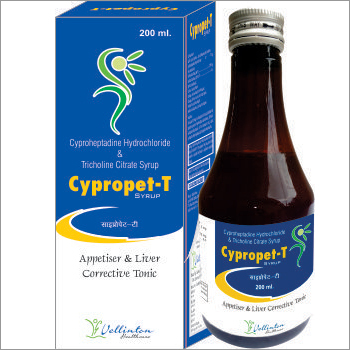 Cyproheptadine Hydrochloride Tricholine Citrate
Product Description
Our in-depth knowledge and industrial expertise has enabled us to emerge as a reputed organization engaged in offering Cyproheptadine Hydrochloride Tricholine Citrate. It is an antihistamine used to relieve allergy symptoms such as watery eyes, runny nose, itching nose, sneezing, hives and itching. It works by blocking a certain natural substance that the body makes during an allergic reaction. Our diligent workforce uses quality grade compounds to process this Cyproheptadine Hydrochloride Tricholine Citrate. We offer this medication at affordable prices.
Features:
Competitively antagonizes histamine
Exhibits antiserotonin activity

Accurate composition

Cyproheptadine Hydrochloride I.P. 2 mg.
(As anhydrous)
Tricholine Citrate (65%) 275 mg.